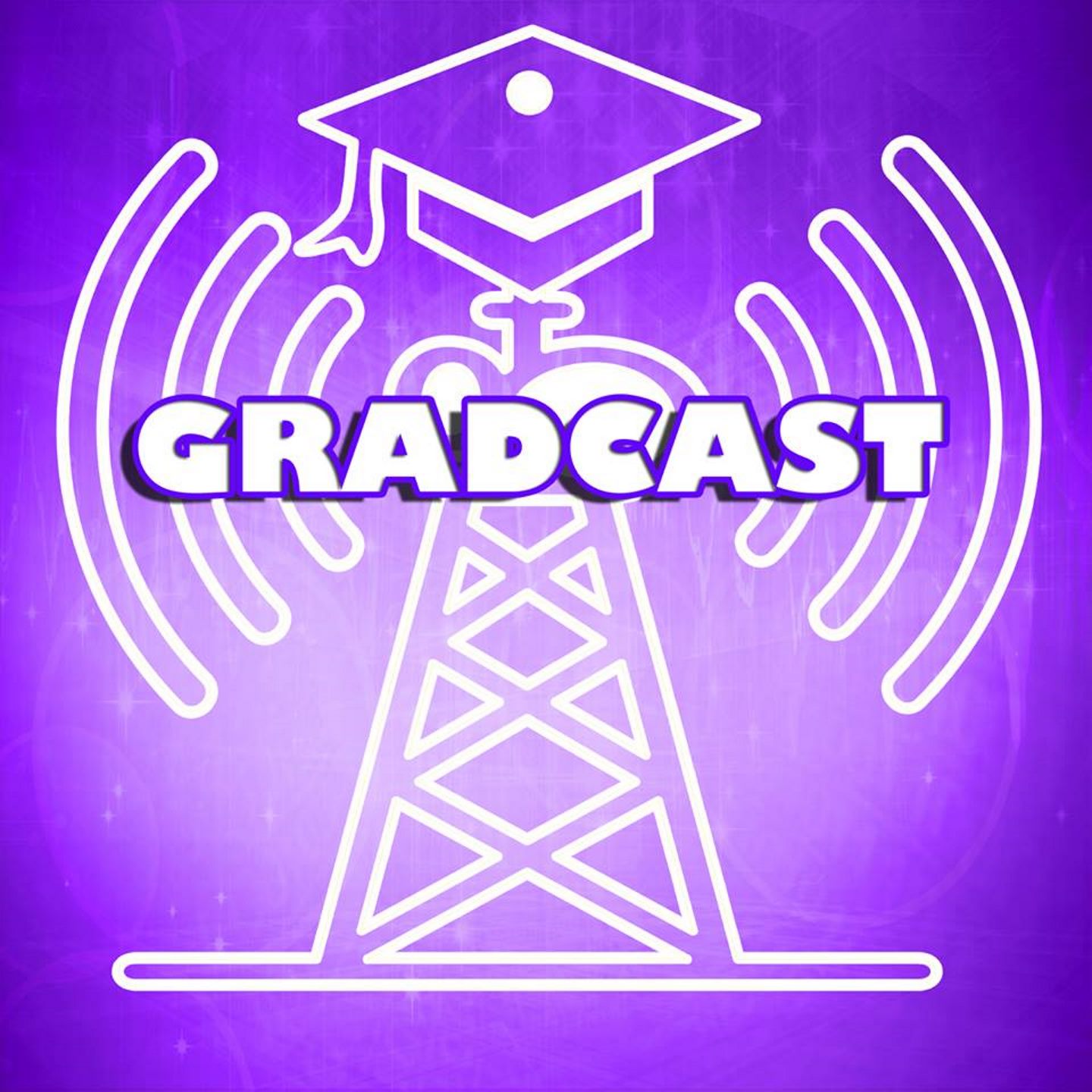 The official podcast of the Society of Graduate Students at Western University in London, Ontario, Canada. We aim to showcase the innovative research that graduate students are conducting at Western University and appeal to various audiences including those within and beyond the academic community.
Gr
adCast is the official radio show and podcast of the Society of Graduate Students at Western University in London, Ontario, Canada. Founded in 2012, the mandate of the GradCast Editorial Board is to highlight graduate students at the University of Western Ontario in a media context. We aim to showcase the innovative research that graduate students are conducting at Western University and appeal to various audiences including those within and beyond the academic community.
The GradCast radio show airs every Tuesday and Thursday at 11am on Radio Western 94.9 FM, and episodes are uploaded to our website weekly. From History to Histology, we show you the cutting edge research of one of Canada's top research universities.
We are always looking to have more Western University graduate students on the show. If you are a Western University graduate student, email us at gradcast@sogs.ca
GradCast Editorial Board
Managing Editor:
Amalie Hutchinson
Social Media Manager:
Recording Secretary:
Recruiter:
Meghan Voll, Mark Ambrogio
Show Hosts:
Ryan Baxter
Anthony Cruz
Apurva Desai
Producers:
Amalie Hutchinson
Scott Walters
Suzy Lee
Amalie Hutchinson
Amalie is the current Managing Editor of GradCast. She is a PhD student in the biology department studying thermoregulation and mitochondria in birds, specifically in how hummingbirds use torpor to survive cold nights. Amalie joined GradCast in 2021, and is excited to lead the committee! In her free time, Amalie works on her latest artsy project and goes out birding.
Twitter: @Amalie_JHutch
Jordan VanderBurgt
Jordan is a PhD student in the Biology department at Western. His research is in the field of Plant Molecular Farming, and focuses on using plants as an expression platform for the development and production of vaccine candidates against a prominent livestock disease. If things go well, the resulting vaccine should provide a safer and more effective alternative to current methods being used in controlling the spread of this disease in pig farms across the globe. Fun facts about Jordan are that he has moved apartments in the city 7 times in 7 years, and he enjoys playing a wide variety of musical instruments whenever possible (ie. when he can find somewhere to play that won't make his neighbors hate him).
Twitter: jvand222
Episode: 380: Pigs, Proteins, and Plants
Meghan Voll
Meghan is a Ph.D. candidate in the Faculty of Information and Media Studies (FIMS) at Western. Originally from Waterloo, Ontario, her research looks at mobile dating apps and industry, and how design options and values about intimacy they promote often emphasize app's commercial goals. Meghan joined the GradCast committee in November 2022. In her free time, Meghan enjoys bullet journaling, listening to podcasts, metal music, running on her treadmill, and bothering her two cats, Pancake and Waffles.
Twitter: @meghan_voll9
Episode 395-Behind the Scenes of Swiping Right
Carly Charron
Carly joined GradCast in 2022 and is the current Recording Secretary. She is a PhD student in the Department of Biology and her research is focused on developing an edible, plant-produced Salmonella vaccine for poultry. Her favourite thing to do in her spare time is attend Trivia Tuesdays at the Grad Club.
Twitter: @carlycharron
Mark Ambrogio
A graduate of Western, Laurier, and York universities, Mark is a PhD candidate in Library and Information Science (LIS), here at Western. His primary research interest is in exploring the topic of genre delineation (how genres are understood in popular fiction reading), looking at science fiction, specifically. Mark is also interested in the relationship that local archives have with other so-called "GLAM" institutions (galleries, libraries, archives, and museums), in preserving and promoting Ontario history.
Mark enjoys reading, hiking, movies (especially at the movie theatre), and having tea (or a pint) with friends. He enjoys being an active member of the local community.
Anum Anjum
Anum is an MSc. candidate in the Interdisciplinary Medical Science program. Her capstone project is related to the cardiovascular system, specifically Kawasaki Disease. Anum has been heavily involved in neuroscience research and campus life in her undergrad at the University of Guelph. She joined GradCast in 2023 and thoroughly enjoys getting to know people through interviewing them. In her spare time, Anum likes to spend time with her friends and play board games.
Anthony Cruz
Anthony is a second-year PhD student in Western's Department of Psychology. Anthony studies categorization, the cognitive process of segmenting things into groups. How do we learn what constitutes a dog vs. a wolf? How does a doctor in training learn the difference between a melanoma and a benign skin lesion? Anthony tackles questions of this nature using ecologically valid research design and computational analytic methods. Anthony joined GradCast in 2023. In his spare time, Anthony enjoys playing video games and attending local comedy nights.
Apurva Desai
Apurva is a MSc. candidate in the Faculty of Health Sciences at Western. He resumes his Master's journey in 2023, bringing great enthusiasm and a spirit of discovery. His research interests are in the field of Health Promotion, specifically in supporting mental health and wellness by applying a qualitative approach. Apurva joined GradCast in 2023 following his special relationship with podcasts. Apart from listening to podcasts, Apurva enjoys talking and watching movies, being physically active particularly, dancing, playing cricket and spending time outdoors, and finds himself most at ease when he is engaged in meaningful conversations about life and wellness.
Ryan Baxter
Ryan Baxter (he/him) is a student in the Doctor of Musical Arts program at Western University's Don Wright Faculty of Music, studying solo piano performance with Professor Stéphan Sylvestre. Beyond academic life, Ryan is Organist and Music Director at Rowntree Memorial United Church in London. He has worked as a marker/grader, choral and instrumental accompanist, in-classroom tutor for mathematics and English, MOOC (massive open online course) facilitator, private piano and theory instructor, and in various other education-related positions. When Ryan is not practicing, writing, working, or GradCasting, he can be found wandering outside, gaming on his PC, cooking, baking, and applying to more programs.
Past Members
Jina Kum
Richard Raycraft
Jenna Schlorff
Taniya Nagpal
Chantal Lemire
Sarah Klapman
Hira Nadeem
Ana Moyer
Rosemary Giles
Elizabeth Mholer
Bahaa Helal