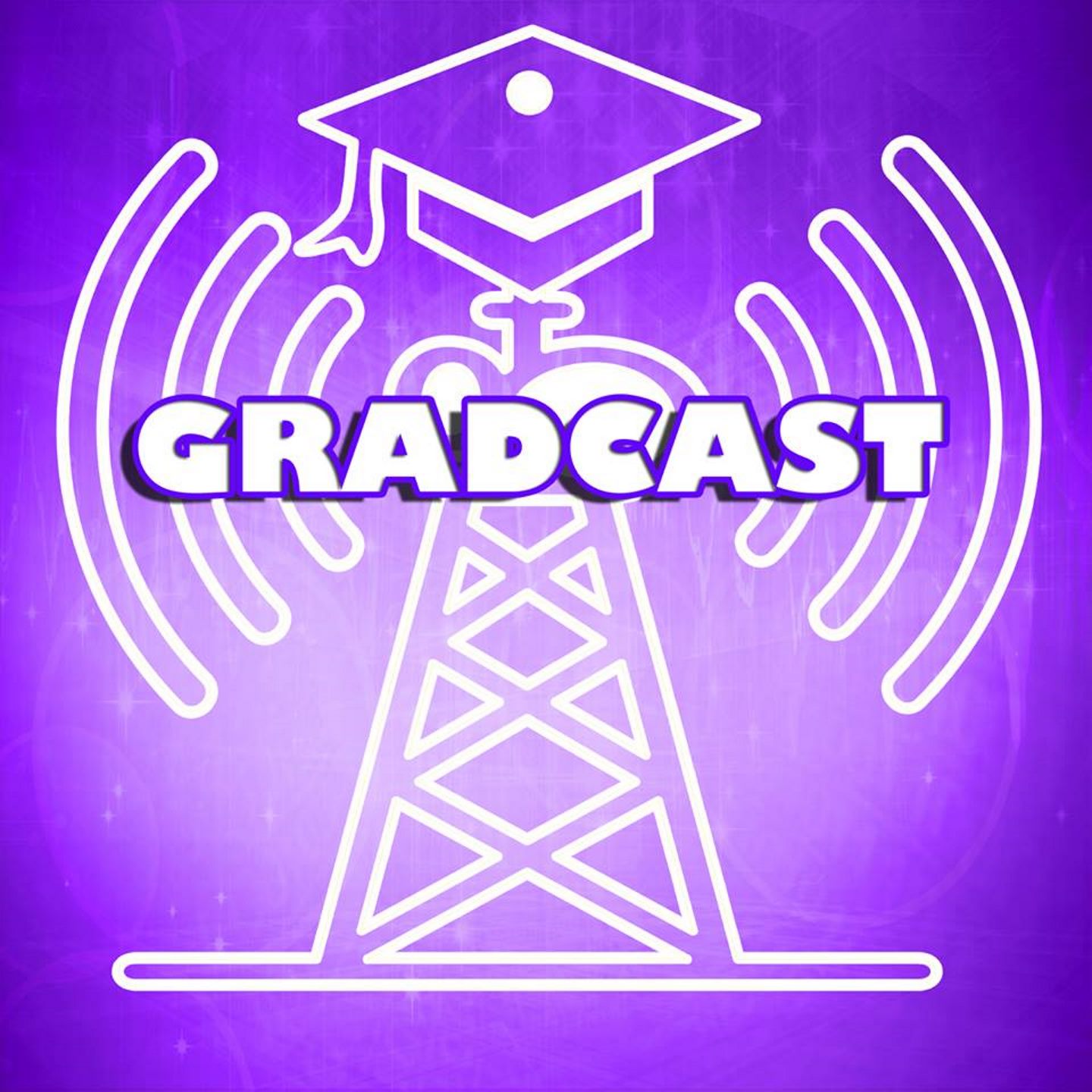 The official podcast of the Society of Graduate Students at Western University in London, Ontario, Canada. We aim to showcase the innovative research that graduate students are conducting at Western University and appeal to various audiences including those within and beyond the academic community.
Gr
adCast is the official radio show and podcast of the Society of Graduate Students at Western University in London, Ontario, Canada. Founded in 2012, the mandate of the GradCast Editorial Board is to highlight graduate students at the University of Western Ontario in a media context. We aim to showcase the innovative research that graduate students are conducting at Western University and appeal to various audiences including those within and beyond the academic community. 
The GradCast radio show airs every Tuesday and Thursday at 11am on Radio Western 94.9 FM, and episodes are uploaded to our website weekly. From History to Histology, we show you the cutting edge research of one of Canada's top research universities. 
We are always looking to have more Western University graduate students on the show. If you are a Western University graduate student, email us at gradcast@sogs.ca
GradCast Editorial Board
Managing Editor:
Amalie Hutchinson
Social Media Manager:
Recording Secretary: 
Recruiter:
Show Hosts:
Producers:
Laura Munoz
Ariel Frame
Amalie Hutchinson 
Scott Walters
Amalie Hutchinson
Amalie is the current Managing Editor of GradCast. She is a PhD student in the biology department studying thermoregulation and mitochondria in birds, specifically in how hummingbirds use torpor to survive cold nights. Amalie joined GradCast in 2021, and is excited to lead the committee! In her free time, Amalie works on her latest artsy project and goes out birding.
Twitter: @Amalie_JHutch
Ariel Frame
Ariel is a PhD student in the neuroscience program at Western University. He moved to London from Vancouver in 2016 in order to begin graduate school at Western. He is a neurobiologist who is currently researching aging, metabolism and memory in hopes that his future work will address the mechanisms underlying Alzheimer's disease etiology. Ariel likes in depth discussions on controversial topics, playing soccer and the number three.


Lab website: www.thecumminglab.com
Twitter: @ArielFrame
Interview: Episode 267 | The Super Secret Sex Life of Fruit Flies
Laura Muñoz Baena
Laura is a PhD student in the department of Microbiology and Immunology. Her research focus on understanding evolution in virus genomes. She is particularly interested in overlapping reading frames, which are chunks of the genome that encode more than one protein and are thought to be used for viruses to create new genes. Since Laura moved to Canada, she has had to learn to enjoy the winter, so she now likes to take long walks around London and escape the city every time she has the chance in order to visit new places of what she describes as a freezing but fascinating country.
Twitter: Laura_bam7
Brittany Melton
Brittany Melton (she/her) is a second-year Ph.D. student in Media Studies. She graduated from the Master of Arts Popular Culture program at Brock University in 2018 and has spent her time since working as a teaching and research assistant in the Communication, Pop Culture, and Film department. Her past research has focused on comedy and gender representation in the television show Unbreakable Kimmy Schmidt (2015-2019). This research examined how the comedy genre is employed to help create a counter-hegemonic message about gendered experience. She feels it is vital to research how genre influences how gender identity is portrayed in television shows because understanding representation is important for understanding how we communicate what gender "looks like". In her time at Western, she has been exploring other venues where representation occurs, specifically in online communities like Reddit. In her spare time, you can find her reading books she finds on TikTok, swimming at the Rec, or enjoying a pint at the GradClub!.
Twitter: @realbritmelton
Episode: 365 | Reddit and Weep: Gender and Dating in Online Communities
Jordan VanderBurgt
Jordan is a PhD student in the Biology department at Western. His research is in the field of Plant Molecular Farming, and focuses on using plants as an expression platform for the development and production of vaccine candidates against a prominent livestock disease. If things go well, the resulting vaccine should provide a safer and more effective alternative to current methods being used in controlling the spread of this disease in pig farms across the globe. Fun facts about Jordan are that he has moved apartments in the city 7 times in 7 years, and he enjoys playing a wide variety of musical instruments whenever possible (ie. when he can find somewhere to play that won't make his neighbors hate him).
Twitter: jvand222
Meghan Voll
Meghan is a Ph.D. candidate in the Faculty of Information and Media Studies (FIMS) at Western. Originally from Waterloo, Ontario, her research looks at mobile dating apps and industry, and how design options and values about intimacy they promote often emphasize app's commercial goals. Meghan joined the GradCast committee in November 2022. In her free time, Meghan enjoys bullet journaling, listening to podcasts, metal music, running on her treadmill, and bothering her two cats, Pancake and Waffles.
Twitter: @meghan_voll9
Episode 395-Behind the Scenes of Swiping Right
Carly Charron
Carly joined GradCast in 2022 and is the current Recording Secretary. She is a PhD student in the Department of Biology and her research is focused on developing an edible, plant-produced Salmonella vaccine for poultry. Her favourite thing to do in her spare time is attend Trivia Tuesdays at the Grad Club.
Twitter: @carlycharron
Mark Ambrogio
A graduate of Western, Laurier, and York universities, Mark is a PhD candidate in Library and Information Science (LIS), here at Western. His primary research interest is in exploring the topic of genre delineation (how genres are understood in popular fiction reading), looking at science fiction, specifically. Mark is also interested in the relationship that local archives have with other so-called "GLAM" institutions (galleries, libraries, archives, and museums), in preserving and promoting Ontario history.
Mark enjoys reading, hiking, movies (especially at the movie theatre), and having tea (or a pint) with friends. He enjoys being an active member of the local community.
Past Members:
 Jina Kum
Richard Raycraft
Jenna Schlorff 
Taniya Nagpal
Chantal Lemire
 Sarah Klapman
Hira Nadeem
Claire Bottini
Ana Moyer
Rosemary Giles
Elizabeth Mholer
Bahaa Helal